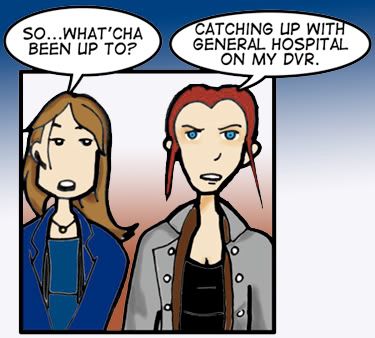 Honestly, the scene in the elevator was about oh, 15 seconds long... but it felt like minutes.

Incidentally, I don't know if anyone caught it last Thursday on Burn Notice, but everyone's favorite presidential aide, Mike Novick (played by Jude Ciccolella) was a con artist mastermind, aided by his son--who just happened to be Dana Walsh's ex-boyfriend Kevin. WORLDS ARE COLLIDING!

Seriously--there has to be a connection on the production level between 24 and Burn Notice--there's been quite a few actors who have appeared on both, and given how big the acting circle is, there's gotta be someone working both sides behind the camera.

Well, since this week's comic is up before tonight's ep, there won't be a commentary, but hey, don't forget to check out this week's batch of the 365 Days of Character. Comments welcome there as well too.

See you next week!