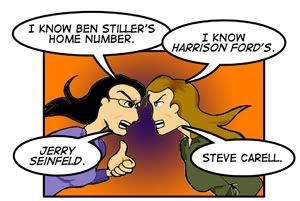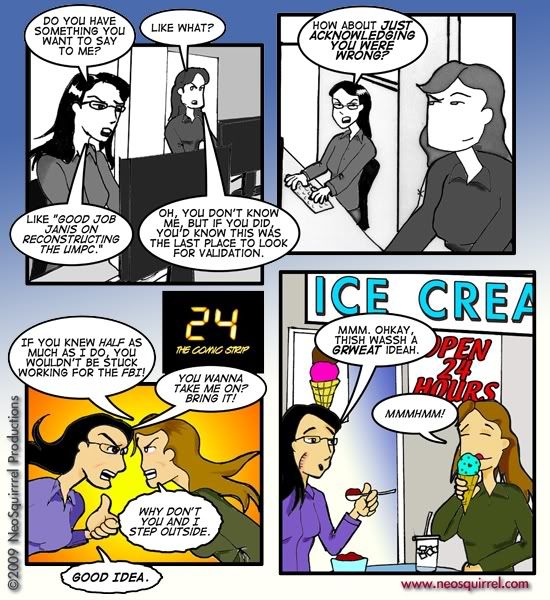 God, I love these two. I really hope they convince Janeane to come back next year with Mary Lynn.

Oh! That reminds me: NeoSquirrel Productions is now begrudgingly on Twitter! As is Mary Lynn! And James "Bill Buchanan" Morrison!

You Twitter fiends will want to add (in any order after neosquirrel)

NeoSquirrel: twitter.com/neosquirrel
Mary Lynn Rajskub: twitter.com/rajskub
James Morrison: twitter.com/jamespmorrison

Edit: James Morrison tweeted me back tonight. AWESOME.

Mary Lynn's a crack up on it every day. James doesn't post as often, but he's just as mild-mannered as Bill was. And me? Well, dur. Same old wackiness you know oh so well.

So, about this week's ep:
SPOILER ALERT!

Jack catches Tony. Again. I've seen more bumbling terrorists get away easier than Tony has. It's kind of embarrassing. Theories abound that somehow Tony redeems himself. Let's hope so.

And I get the feeling that Kim's going to have to pull another Day 2 self-preservation tactic and take out the baddies herself. Why not? She's had training with CTU after all at this point. But then the cougar burst through the terminal window and mauls her.
Okay, that's too dark. She's a mom now, and frankly, the fact that she's admitted that EVERYTHING ABOUT JACK'S LIFE SINCE DAY ONE IS HER FAULT more than makes up for it.
That's all I wanted to hear Kim. Thank you.

Aaron's pulling a Nixon/Watergate workaround. Let's hope there isn't a 18 1/2 minute missing segment of the room recording. Unfortunately, this may still hurt President Taylor's reputation. But, it'll probably just end up buried and Livvy will be sent on a peacekeeping mission in the Far East...for the rest of the administrative term.

Oh, and how about that shot in next week's trailer of Renee hanging out of the SUV window, firing like a complete badass? Yessirree!

The only trouble is, I won't be able once again to watch the finale live-as-it-happens-- Dancing with the Stars has it's big 2-hour Part 1 finale the same night (live as it happens!) and chances are I'm gonna have to be there.