Breaking news: Mr. Taylor Goes to Ground-Click for details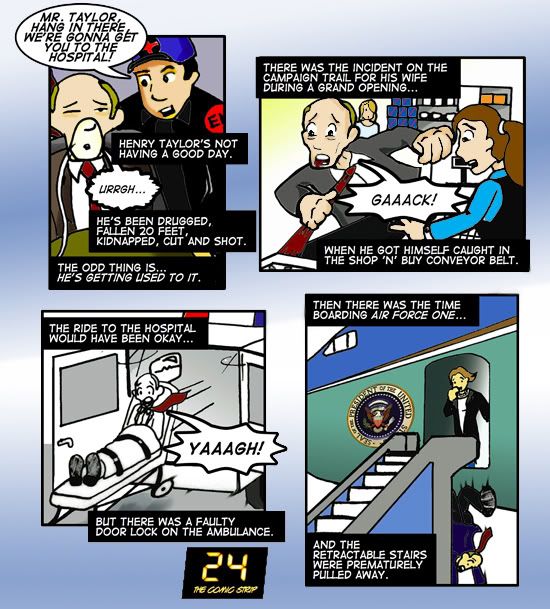 Oh, and as promised, a new character icon!
If you look closely, you can see the light blue twinkle in her eye.
What can I say, the girl's growing on me.
So! This week:
SPOILER ALERT!
Okay, so Dubaku's girl sold him out, Henry's in surgery, Janis is worried about job security, and we found who the mole is... but let's get to the really important issue:
LOOK WHO'S BACK!
Woo hoo! I was wondering where the O'Brian Clan was shacking up. Maybe they're just on vacation fighting terrorism. Then again, Chloe was originally stationed at D.C.'s CTU Branch back in Day 2.5 (which again was
24: The Game
), so she definitely has old roots there. And a big AWWWW to Little O'Brian, looking around 2, maybe 3 years old.
But, even better was the longest-running character other than Jack in the history of 24: AARON PIERCE! This now makes his seventh consecutive appearance, and I couldn't be more thrilled.
Maybe perhaps we'll learn through him if he's still with former first Lady Martha Logan, and even more importantly if Charles Logan survived that ambulance ride. If this week's comic is any indication, he probably didn't and rolled down a California hillside embankment.
I wonder if Mike Novick might still make an appearance somehow...