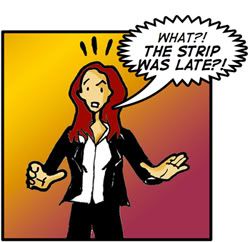 FINALLY! I got this one done. The really sad part was I didn't come up with the ending until about three hours ago. This is probably the longest one I've ever had coming up with an idea-- it started small, then, as usual, my imagination got away from me, adding more and more cargo and just went right over the edge of Eastwood Ravine.
And yes, before you say anything, I'm not a big fan of Mary Sue'ing fandom, so don't worry,
it'll (probably) be the last time you see me in the 24'verse.
Well, that being said, let's touch on this week, yes?
SPOILER ALERT FOR HOUR 6!
First off, they spoiled us with having two nights with two hours apiece. Having only one hour this week again was torture.
Boy, the African leader Motobo and his wife just can't catch a break-- they get kidnapped
and
rescued by the same guys (Jack and Tony), and they
STILL
have to continue being kidnapped! Rough day.
Apparently Chloe picked up some dental correspondence while being a stay-at-home mom puttint that tooth transmitter in. Well, better that I guess than her being stuck on Warcraft for 12 hours a day.
And we have our first character victim! Oh Samantha. You were so lovely. You
really
didn't deserve a double stabbing. Gah, that had to be one of the most brutal on-screen deaths in the run of the show.
So how about Jack and Tony getting into not one, but
two
shootouts? Hot diggity!
I wonder what President Taylor's gonna do. She seems to be a no-nonsense woman. Hopefully she stays the course and relies on the FBI to capture Dubaku. *snicker* HAAHAAAHA! Oh god, that's funny... the FBI stopping this whole thing! Hee hee! Whooo... okay, breathe, breathe...
I'm really looking forward to seeing Bill in action next week. He
was a field op in NYC CTU according to his jacket
, so he knows how to handle himself. Just... stay alive, okay Bill? We need'ja.
By the way, what's up with Renee's new black leather jacket next week? Is it a rule when you join Mini-CTU that the company outfit is regulation black?
Back next week and on time! Adios!
Current Mood:

accomplished